Homeowners, why not spruce up your living area with your ideal granite countertop from MC Granite Countertops. Serving granite countertops in Nashville, and the entire Tennessee area, they have the best quality, top notch service, low prices and daily specials offered in the area.
Whether you're remodeling your kitchen, bathroom, bar area, or entertainment room, MC Granite Countertops offers an assortment of colors, patterns, edging profiles, as well as numerous styles of sinks and faucets. Their low prices and daily specials are sure not to miss. With over 15 years of experience, their staff is to provide customers with exceptional service, fabrication, and installation of granite and marble countertops. That's not all! They also offer tile backsplash for your home project.
MC Granite Countertops also provides repair services on sinks, cooktops, granite, marble and solid surfaces needed for refurbishing. Offering daily specials, you can't beat their discount granite counters. Most importantly, they acknowledge customers as the base of their business and look forward to utilizing their knowledge and skills to each project that is set in stone.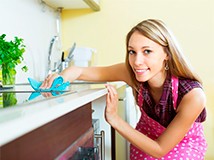 MC Granite Countertops of Nashville advises you to use place mats, or something similar underneath your ceramics, silverware, china, and other products that are similar in which can typically scratch materials as a precaution.  It is likely that your countertops will not become scrateched from the above materials, but it is best to use caution to protect your investment.
MC Granite Countertops has taken the time to provide some common information on How to care for your new countertops:
DON'T leave a spill; clean them up immediately
DON'T use cleaners such as bathroom cleaners, grout or tub cleaners like soft scrub or comet; they have grit in them.
DON'T use anything to clean your counters that contains high acid levels.
DON'T use abrasive pads such as scotch brite, steel wool, etc. for cleaning your countertops.
DON'T use any alkaline cleaners that are not specifically formulated for natural stone.
DO clean surfaces regularly with soap and water, or an approved stone cleaner.
DO make sure to enjoy your countertops, and don't be afraid to use them normally, just be conscious about items that could potentially harm them.